Lead magnet is a strategy that allows business owners and marketers to grow their prospects list and build a larger subscriber base.
What lead magnet ideas are the best-converting, and how to create them? That's exactly what we're covering here.
The success of lead magnet ideas depends on delivering content that answers people's queries in the most relevant way possible while:
Building trust and authority for your business.
Sharing details about your products and services in a lengthier format.
Capturing contact information of prospects.
By the end of this article, you'll have enough knowledge to double your contact list size.
In this article, we'll walk you through:
Let's get to it.
What is a Lead Magnet?
A lead magnet is a marketing strategy that consists of providing an incentive to your website visitors in exchange for their contact information.
A lead magnet can be in different forms:
Downloadable eBook,
Whitepaper,
Video training,
Discount,
Freebie, etc.
This marketing tool helps business and organizations:
Grow their subscriber list.
Generate leads.
Engage website visitors.
Grab contact data of website visitors.
If a website visitor spends time browsing your pages then leaves, your chances are low to win them back after they leave unless you run remarketing campaigns.
Your solution to grab your visitors' attention on your website and convert them to leads is to offer them a free lead magnet in exchange for their contact information.
There are multiple types of lead magnet ideas that you can use to turn your website visitors into leads.
Which lead magnet type works best for your business?
Let's go through each one separately to find out.
15 Types of Lead Magnets You Can Use
The type of lead magnet to decide on has a lot to do with:
Your business nature.
The time you'd want to spend creating your lead magnet.
Your customer profile and other factors.
For instance, what works best for an eCommerce business might not work for a B2B company and vice versa.
Here is a list of 15 types of lead magnets that you can use for different businesses and industries.
1. Guide
Downloadable guides are similar to ebooks but provide a lengthier, more in-depth copy.
Offering guides as a lead magnet helps you grow your business's prospects, and at the same time, educate them on a matter that they'd need you to fulfill.
For example, if you're a sales software, provide your prospects with sales guides that include using your tool.
Albacross, under their "Resources" website menu item, provides a list of downloadable guides and other lead magnet types to offer knowledge, guidelines and showcase how their tool helps their users.
2. Toolkit
Online marketers or any executive, in general, are always on the hunt for tools to use as it helps them:
Save time,
Automate repetitive tasks,
Or discover growth opportunities.
For that, providing toolkits as a lead magnet type is a practical way to provide your website visitors with resources. You can also include your business as a tool to use in the list.
Here is a lead magnet example of a website providing a toolkit in exchange for an email address. They embed this section in blog articles.
To prevent visitors from entering fake email addresses, use Envoke to set up a double opt-in process or send your lead magnet in a confirmation email.
3. Exclusive video training
Video is one of the best lead magnet examples. It's easier to digest, and your prospects get the chance to meet you in person through a video.
This way, you can establish the right tone, provide value, and get closer to your prospects.
The best ways to introduce a video lead magnet is to:
Display a personalized popup to visitors.
Preview a short 2-minute video to introduce your video course or training.
Use nanobars in your blog articles to convert readers into leads.
This lead magnet sample provides 2 weeks of access to video courses and guides. They do increase the sense of urgency of their visitors with a countdown timer.
4. Free trial to software
One of the best lead magnet ideas for SaaS companies is their free trial.
Instead of asking for visitors' email addresses in exchange for a PDF guide, you can make your sales funnel shorter and get your visitors to discover your products.
According to Forrester, three out of every four B2B buyers would rather self-educate than learn about a product through a sales brochure, email, or a representative.
If your product provides a free trial, make it your go-to lead generation magnet and get visitors to register.
5. Discounts
You might want to offer seasonal discounts during the holiday season. This way is a great lead magnet idea to reward seasonal shoppers and convert them into customers.
Here is Black Friday lead magnet example from Fancy And Fit online store.
6. Free shipping
Free shipping works like a charm for online stores, customers love it, and it works both ways for the buyer and seller.
If you're running an eCommerce store or selling a product that has to be shipped to customers, use free shipping to capture visitors' email addresses and convert them to customers.
According to Convince And Convert, consumers are four to five times more likely to make a purchase if you offer free shipping.
This lead magnet example below offers free shipping to customers. Visitors enter their email addresses to reveal their discount code.
As the example demonstrates, take advantage of seasonality when purchase attempt is high.
For example, you can offer free shipping during Christmas and then send Christmas email newsletters to those who didn't finish their purchase.
7. eBook
We all remember when eBooks lead magnets were one of the best lead magnet ideas. Well, not anymore.
As eBooks are lengthier and more difficult to digest, other lead magnets like videos or checklists tend to outperform them.
Yet, eBook lead magnets still work for some industries and specific user profiles. For that, you need to produce the best value in your eBook to make sure the readers go through all of it.
8. Handbook
A handbook is also a PDF file like an ebook, just a shorter version. Online marketers use handbooks to deliver instructions and provide references regarding a specific topic.
As a lead magnet idea, handbooks are a great way to grow your contacts list by providing content that your audience can easily digest and find value.
When using a handbook as a lead magnet, make sure to:
Write about a specific topic.
Provide actionable insights.
Offer facts and references.
Give information and clear instructions.
Here is a lead magnet example from OptiMonk that provides a short +50 pages handbook that includes tips and examples on how to grow your email subscribers.
9. Free audit
Who wouldn't like a free assessment? Whether you can provide an assessment for individuals or an audit for a lead, it's a great lead magnet idea to add to your strategies.
Free audit as a lead magnet helps you learn more about your lead's pain points, so later, you can craft a personalized campaign to provide them with an exact solution.
The solution has to solve their issue or whatever problem you detect during your free audit.
DigitalMarketer created this unique lead magnet idea as a personal assessment.
One of the smart techniques they used in their lead magnet; they don't ask for your contact details before you start the assessment.
They let you go through it, complete it, and once done, you enter your email address to see the report and receive a copy.
Here is the lead generation form they use for their lead magnet.
If you're generating leads in Canada, make sure to review your CASL compliance requirements to prevent non-compliance issues.
10. Gated content
Don't be shy to ask for an email address in exchange for access to unique valuable content.
Even if it's just an article on your website, you can turn your blog post into a lead magnet and use it to grow your subscriber base.
Ensure an authority on a specific topic, and people would trust your opinion and consider it trustworthy.
Here is a gated content lead magnet example where Brian Dean from Backlinko provides an exclusive blog article to email subscribers.
When website visitors click on the "Unlock Now" CTA, a popup appears with a single contact field for the email address.
To make sure visitors don't use fake email addresses to access your content, use double opt-in to verify your subscribers.
Register to Envoke to set up a double opt-in for lead magnet campaigns and make sure you have actual leads joining your contact list.
11. Checklist
A PDF checklist is quicker to make than an ebook and easier to digest too. Some people don't prefer to go through a long ebook and prefer something shorter and actionable.
That's precisely what a PDF checklist is for.
A PDF checklist converts well as it's easily consumable and provides high value in a brief document.
You can provide PDF checklists as a lead magnet within a particular blog article.
For example, if you have a blog article about sales and it's driving significant traffic, adding a sales checklist to it would help increase your leads from that specific blog post.
OptinMonster embeds their checklist in their blog article to help convert their blog reader into subscribers.
When the reader clicks on the checklist bonus, a popup appears to ask for the email address.
Want to display your lead magnet form as a popup?
Use Envoke email marketing software to display a popup when a website visitor clicks on a CTA on your website or blog. You can easily embed your popup form and set up an email autoresponder to deliver your promised lead magnet.
12. Wireframes
A wireframe depicts a page layout, a framework to follow when fulfilling a specific activity.
Wireframes are the designers' and marketers' best friend. If your website visitors and target audience can use a wireframe, it would be the best lead magnet idea for your website.
HubSpot does a great job providing a wireframe lead magnet on their blog article.
They've done it perfectly because the wireframe offer and CTA are only visible:
To visitors who showed interest in a similar topic.
To visitors who spend a specific amount of time on a particular page.
Displaying your lead magnet based on your audience's interests helps provide a personalized experience for your visitors.
13. Case studies
Instead of publishing case studies on your blog page, you can make it as gated content and ask for an email address in exchange for a case study.
Use case studies to show your prospective customers how others found value in your organization or how you help them solve a specific problem.
For case studies lead magnet, you can ask for more contact details other than first name and email address. The data you collect can help you send personalized emails.
Here is a lead magnet example for a case study.
14. Free consultation
Free consultations are among the best lead magnet examples to convert visitors into leads and then eventually paying customers.
Visitors looking for an answer to a specific problem can't turn their heads on a free consultation.
First, it's free. Second, it's from an expert that can help them solve an issue or provide advice.
It's true that it's time-consuming and needs more human resources, unlike other lead magnet examples. However, a free consultation allows you to:
Provide value in real-time while talking to your leads.
Position yourself as an expert.
Introduce your organization, company, and solutions.
Collect prospects' feedback to optimize your value proposition.
Here a lead magnet form with a creative copy to get website visitors to book a free consultation with a professional.
15. Downloadable framework
Frameworks are a set of tools that you offer your visitors to teach them methods and skills adopted by top performers.
Frameworks are good lead magnet ideas as they can be adapted to different industries.
Your second option is frameworks if you don't have the resources to give free consultations as a lead magnet strategy.
As visitors are always thirsty for professional advice from experts, frameworks can deliver the same value as consultations.
How to Create and Deliver a Lead Magnet in 5 Steps
To create a successful lead magnet marketing strategy, there are 5 main steps to follow.
Take these steps as your lead magnet checklist, and make sure not to miss any when you're building your lead magnet template.
1. Create your content
The first step is self-explanatory. You'll need to spend your time in production, crafting your best lead magnet.
This step varies from the lead magnet type you're creating. For example, a checklist can take you a week to create, but a video course would take up to a month.
The key takeaway from this step is whatever lead magnet type you want to create, make sure:
Your audience wants it.
It solves a specific problem.
It delivers a clear added value.
It builds authority and trust for your business.
If a lead magnet example covers these points, then no doubt that prospects will consider your business and come back for more value.
2. Create your opt-in form or landing page
When creating a lead magnet, among the top things you'd need is:
An opt-in form, or
A landing page.
Which one to use? Here are my thoughts on both.
Opt-in forms are useful if you want to embed your lead magnet form into your blog articles, website footer, or display a popup on your website.
This way, it's easier to embed the same magnet form on different pages and allow your website visitors to opt-in through different sources.
It's easier for landing pages to have it as a stand-alone page that focuses only on lead generation.
If you want to create a lengthy form and ask prospects for more data, landing pages could serve you better.
With a landing page, you can work more on converting visitors by:
Presenting your lead magnet as a must-have.
Communicating what benefits consumers can get.
Offering a sneak peek at your lead magnet.
If you're targeting Canadian leads, make sure to meet your CASL compliance requirements and obtain contacts' express content.
Create CASL compliant opt-in forms to make sure you obtain subscribers' consent and prevent non-compliance issues.
3. Set up an email autoresponder
To prevent visitors from entering fake email addresses just to get access to your lead magnet content, I recommend you set up an email autoresponder to deliver your lead magnet.
An email autoresponder can be a confirmation email to confirm the success of a subscription. Also, deliver the promised content.
With whatever lead magnet type you create, setting up email autoresponder guarantees you a higher email rate as your subscribers are already expecting your email.
Using Envoke, you can also turn a simple email autoresponder into a drip email campaign in which you:
Deliver your promised lead magnet.
Send follow up emails.
Introduce yourself and your business.
Qualify your leads.
At the end of the day, what is a lead magnet? It's a strategy to collect prospects and contacts to engage, qualify, and convert them into customers when they're ready.
4. Drive traffic
You can embed your lead magnet into your best-performing pages to convert website visitors into leads.
If you have high traffic on a specific topic, it would be worth creating a lead magnet around the same topic to get visitors to give you their email address in exchange for more value.
Or else you can create a lead magnet landing page using Envoke and drive traffic using PPC ads or other marketing strategies.
5. Monitor your growth
Monitoring the growth of your lead magnet is among the most critical steps. You must be aware of how your lead magnet is converting.
AB testing your lead magnet popup and landing page can help you study your performance and optimize results.
Creating 2 variations of CTA, landing page titles, or copy helps you make better-informed decisions about what works best.
Define a testing period, monitor your different variations' performance, and stick to what performs better.
Opinion and perspective matters, but data matters the most when it comes to lead magnet strategies.
9 Lead Magnet Ideas and Examples to Increase Subscribers
Now that we've seen the different types of lead magnet ideas and how to create one, let's have a look at the best 9 lead magnet ideas and examples from brands.
1. Create an engaging quiz
A lead magnet quiz is a creative way to make your website visitors' experience more enjoyable.
While visitors engage with your brand in a fun way, you can benefit from collecting the email addresses of those who participate.
A creative quiz makes your website visitors curious and at the same time amused.
Here is a lead magnet example from Sebago that features a quiz about dog-friendly adventures.
2. Make subscription fun
A magnet form doesn't need to be a form that contains an email field and first name.
You can make your lead magnet more fun to interact with by providing your visitors with a gamified experience.
A lucky wheel can trigger your website visitors and make them feel lucky to engage and spin the wheel for a chance to win.
Below, a smart lead magnet template which visitors can spin for a chance to get a special offer in exchange for their email address.
3. Provide a shortlisting
Some prospects on your website might prefer shorter and straightforward content.
Listing is a great lead magnet example to provide short, more direct content for your visitors.
This magnet from example Hidden Hearing is simple, displaying a clear value for their prospects.
4. Invite visitors to your announcements' list
Like the new Playstation 5 release or similar products, people want to be informed about the product announcement dates and be first to discover it.
For that, a waitlist for upcoming releases can be a lead magnet template that you can use to collect email addresses of excited prospects.
This list will be your first segment to send your new product announcement email to.
5. Invite prospects to VIP lists
Customers love to be treated like VIPs, and guess what? That's a lead magnet idea for you.
VIP lead magnet examples are more common for eCommerce stores where prospect shoppers join VIP clubs to receive discounts from their favourite brands.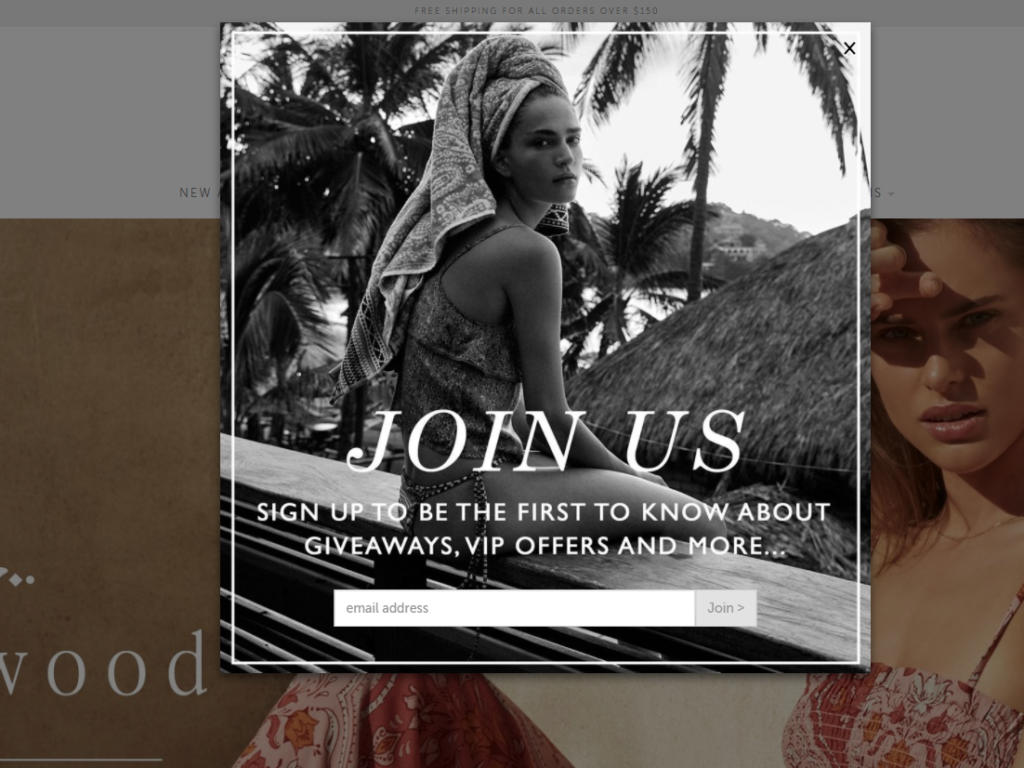 If you don't run an eCommerce store, VIP access can mean accessing a private Facebook group in which you engage and connect with your prospects.
6. Reward your returning visitors
No prospect ever says no to a free reward.
To create a customized experience, you can offer a reward to your returning website visitors and treat them with a discount.
Here is a lead magnet form as a popup that congratulates visitors for unlocking a secret coupon.
7. Promote a giveaway
A giveaway is one of the best lead magnet templates to capture email addresses of visitors who feel lucky on your website.
Giveaway mainly works as a list of prospects opt-in for a chance to win a free product, with a lucky winner by the end of the giveaway period.
When you use a giveaway lead magnet idea, make sure to communicate the rules and how the winner will be selected.
This magnet popup below includes a clickable "Official rules" text that directs visitors to a page that contains all necessary details related to the giveaway.
8. Display your lead magnet document
If you're using ebook lead magnets or PDF documents in general, don't be shy to show the cover of your PDF file.
By doing that, you trigger your prospects' curiosity as they will judge the cover.
There are free lead magnet mockup tools that can help you design a cover for your ebook, checklists, or any other material you're offering.
Here is a lead magnet sample of a popup form featuring the checklist cover.
9. Ask user to submit a survey
Survey lead magnet examples are killing two birds with one stone.
As a lead magnet idea, surveys allow you to:
Collect user feedback on your website or product in general.
Collect email addresses of your survey submitters.
I recommend you create short surveys and ask users for their email address after they complete it.
2 Lead Magnet Software to Use
There are multiple lead magnet software to use. It depends on whether you want to use different tools and integrations or just use one software that does all in one place.
When deciding on your lead magnet software, make sure to use the one that:

Allows your website visitors to opt-in smoothly.
Delivers automated lead magnet emails
Nurtures your leads
Provides you with informative data on your performance.
This helps you automate the process to save time and scale your performance.
Let's have a look together at 2 lead magnet software to use. You don't have to use both tools together, or you can use one or a combination.
1. Envoke
Envoke is a Canadian email marketing software with an emphasis on CASL compliance.
As a lead magnet software, you'll be able to create opt-in forms, landing pages or popups and display it on your website.
Here is an overview of Envoke's form builder.
You can set up an email autoresponder for new leads who fill in your lead magnet form. This way, you'll be able to automate confirmation emails and deliver your promised lead magnet.
Envoke also provides a double opt-in process to help you keep your contact list free of bots or fake email addresses.
Beyond magnet forms, as an email marketing software, Envoke provides drag and drop email builder to quickly create and send responsive engaging emails.
With the email builder, you have access to pre-built email templates that are ready to be customized to match your brand and website.
To sum it up, Envoke is a lead magnet software that helps you:
Design and customize intuitive opt-in forms for your lead magnet.
Set up email autoresponders to deliver your promised content.
Design responsive emails without any coding skills required.
Have clear reporting on your lead generation and email performance.
Lastly, if you're generating leads in Canada and want to be on the right side of compliance, Envoke is the CASL compliant email software to rely on.
2. Unbounce
Unbounce is a landing page builder that helps marketers create and customize landing pages without coding skills.
It's a drag and drop editor where you can create stand-alone lead magnet landing pages.
Unbounce allows your run AB testing for your:

Landing page title.
CTA buttons.
Graphics and images, etc.
As a lead magnet software, Unbounce allows you only to create and customize landing pages.
If you'd like to set up autoresponders or automated drip campaigns, you'll have to register for an email software and integrate it with Unbounce.
Conclusion
There are thousands of lead magnet software to use. But what stands out the most from your lead magnet strategy and helps you succeed is:
Creating a personalized experience for your prospects.
Providing a value to build authority and trust.
Following up with your leads and qualifying them.
Monetizing your efforts by converting leads to customers.
The ultimate rule is, your lead magnet ideas has to provide a unique value for your prospects.
I believe now you have the necessary knowledge to create a good performing lead magnet to build a larger prospects list.
Register to Envoke and let us help you convert your website visitors into leads and, by the end convert them to paying customers to increase your revenue.