Humanizing a business is an essential element for branding and customer loyalty.
Therefore, customers' experience has to feel personal even if your business is operating online.
Thank you emails to customers make their experience with your company feel personal.
Not only that, as you show gratitude, you enhance your customer relationship and increase your customer lifetime value.
Thank you emails come in different shapes & forms. Whether it's a thank you for purchase email, subscribing order, registration, etc.
But how and when? These are the tricks that you need to learn to send engaging thank you emails.
Before we continue, let us first introduce the company behind this article: Founded in 2007, Envoke is a broadcast email software with an emphasis on compliance and subscription management. Unlike Mailchimp, Constant Contact and other platforms Envoke's focus is on subscription management, compliance and effective communications instead of commercial revenue generation for owner operated small businesses. Check out this handy comparison chart: Envoke vs. Mailchimp.
In this guide, you'll learn:
Why Should You Send Thank You Emails?
In-store, customer experience is different from an online experience. In most cases, customers are thanked by shop clerks or staff.
But online customers feel distant from the companies they shop from, and as a business, you want to provide them with a human experience as if they're interacting with you in person.
According to Instapages, on average, 71% of consumers express some level of frustration when their shopping experience is impersonal.
Show appreciation to your customers by sending personalized thank you emails. It's a small gesture, but it gives your customers a sense of satisfaction, appreciation, and gratitude.
Sending appreciation emails make your customers feel like they're dealing with a human on the other end. No one likes to interact with a robot.
Customers will eventually develop a connection with your brand, resulting in higher email open rates for future campaigns.
44% of consumers say that they will likely become repeat buyers after a personalized experience with a particular company.
Creating thank you emails to customers implies an enormous chance to turn into referral since many shoppers share on social media and forward their thank you emails to relatives to brag about a purchase.
Besides, thank you emails will also imply a huge opportunity to create engagement and retention by inserting call-to-actions within the emails.
It's a simple gesture with huge beneficial opportunities. Through personalized thank you emails, you'll be investing in your brand loyalty, as researchers have found.
How to Show Gratitude in Emails
We all know how to say thank you in real life, but how could we do it virtually?
The trick is that you implement a human touch in the thank you emails.
Meaning, make the email look like it's alive, written by a human, and shows gratitude.
Use the following tips to send the best thank you email:
Express gratitude & appreciation.
Include specific details about your customers for personalization.
Repeat saying thank you.
Include an appropriate ending to your email.
Insert positive words in the subject line.
Use heart-warming greetings.
Write in a conversational language.
Make the email joyful.
Include your or your team's picture.
Another thing, show appreciation to your loyal customers through thank you emails without expecting something in return.
A simple expression of your gratitude for them is enough to create a connection with your organization and build stronger loyalty.
Lastly, you can ask your subscribers to perform an action to increase engagement rates.
For example, ask them to share it on social media or forward it to friends or family in return for gifts.
The simpler the thank-you email, the more it feels authentic and human.
When to Send Automated Thank-you Emails?
You can send thank you emails to customers many times throughout the customer lifecycle.
Automated thank you emails are set to be sent based on customers' actions.
There are several occasions when you can automate your thank you emails. Here are examples:
When a contact reaches a specific milestone.
When a contact subscribes to an email newsletter.
After a contact makes a purchase/order.
On special occasions (holidays, birthdays, Christmas,etc.)
When a contact joins an event/webinar.
When a contact refers your services/products.
When a contact is being supportive.
When the company has a celebration.
When a new contact signs up.
When customers provide feedback.
At the end of the year.
How to Set up Automated Thank You Emails to Customers
In most cases, an automated thank you email to customers is an autoresponder email.
It's set to be sent based on a specific contact action such as placing an order, subscribing to email newsletters, joining an event, downloading brochures, etc.
Thank you emails automation is done with the help of email marketing software.
Use email marketing automation software to save time, send emails on autopilot, and trigger emails to be sent at the right time to the right contact.
You can always personalize your emails, depending on your database segmentation and your customers' actions.
Easily set up automated thank you emails to customers using Envoke email software.
Envoke is a Canadian email software that allows organizations to connect and engage their audience while fulfilling their CASL compliance requirements.
For instance, you can create, customize, and embed a CASL compliant form to your website. And automate a thank you email to form submitters.
Here is how to build an opt-in form in Envoke.
Would you like to take customer appreciation to another level?
You can set up notifications that you'd receive every time a lead fills an important form on your website.
This way you can reach out to them and thank them personally via email or even a phone call.
This strategy is common in B2B email marketing, where companies want to reach out to every important lead personally and establish a human-to-human relationship.
When a contact fills a form, the next step is to set up an email autoresponder.
A thank-you email autoresponder is triggered to be sent to contacts who fill a form or fulfill specific criteria you define.
You can set up a basic autoresponder thank you email for your customers who opt-in for a newsletter, fill a form, attend an event, etc.
If you're running eCommerce email campaigns, you can offer small gifts within your thank-you emails such as gift cards, coupons, discounts.
This way, you'll turn appreciation emails to customers into potential profit and engagement.
Now that we've seen how to set up an automated thank-you email campaign let's see how other brands and organizations do it.
19 Types of Automated Thank You Emails Examples
Your appreciation email template should be well designed, well organized, and should contain a creative subject line.
You have no idea how appreciation email templates look like? We prepared for you a list of 19 inspiring examples for thank you emails.
You can recreate the examples below in the Envoke email software. Access built-in templates that you can customize based on your preferences with a simple drag and drop editor.
1. Thank you for your payment email
Regardless of how advanced, secure, and guaranteed technology gets, it's still uncomfortable for a customer not to receive an email to confirm their payment.
Sending confirmation email for payment is crucial for your business; thus, it makes your customer feel comfortable and reassured about their online transaction.
It's best to send thank you for your payment email as a confirmation email.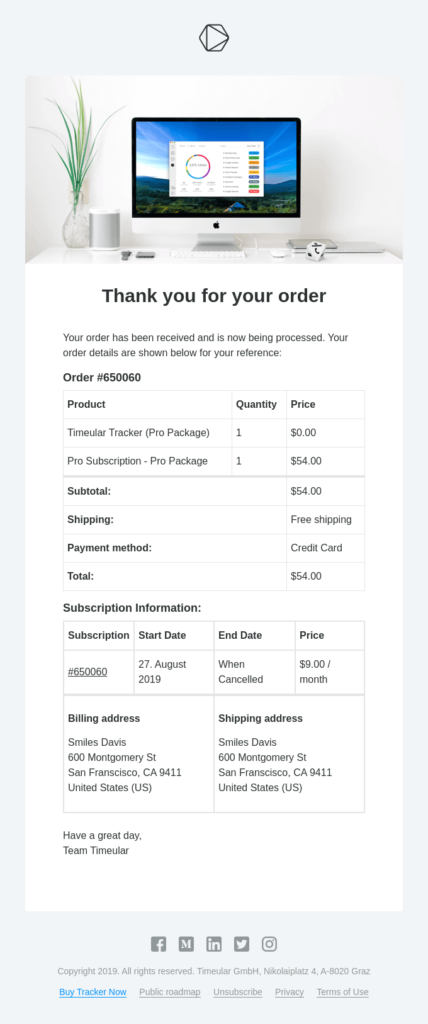 2. Thank you for purchase email
Delivering such emails is an essential step because it makes your customers feel comfortable with their choice and purchase.
You can also communicate additional information within the email, like the delivery number, shipping estimates, refund policy, etc.
Expressing gratitude to customers by saying thank you for purchasing our product might seem like a small act, but it's undoubtedly useful for customer loyalty.
Here is a thank-you for purchase email example to get inspired by.
3. Thank you for registering email
Users who register for your product are considered at the bottom of your marketing funnel.
At this stage, a thank you for registering email helps you activate new users and touch base with them.
Sending a thank you for registering email makes your users feel important and welcomed.
It's better to not be salesy in your registration thank you email. Give your new users time to explore and find the value in your business and then go for sales.
Take a look at this thank you for registering email template sent by Audient.
4. Thank you for attending email
Attending events or tradeshows without following up on prospects is considered leaving money behind.
The best way to get in touch with attendees after events is to send them a thank you for attending email.
You can include a picture from the event in your thank you email to make it relatable.
Here is a beautifully designed thank you for attending our event email template by Invision.
5. Thank you for signing up email
A thank you for signing up email works best for software companies offering a free or beta version of their product.
You can use your thank-you email as onboarding for new users and include an important document, show them where to start, answer FAQs, and get them to use your product.
Here is a responsive thank you for signing up email example to inspire you.
6. Thank you for your order template
Delivering thank you for ordering emails needs to be catchy, simple, and straightforward.
In your order thank you email, you can include:
Order details,
Price and invoice,
Expected delivery date,
Return policies, etc.
Here is a thank you for your order email template to learn from.
7. Thank you email for referral
We can all agree that referral is both powerful and indeed a cost-effective way to increase sales.
If you're managing an online store, it's recommended to send thank you emails to customers and motivate them to refer your product to relatives and friends for a reward.
In the following example, HARRY'S sent out thank you email to their loyal customers and motivate them to refer a friend for a free product.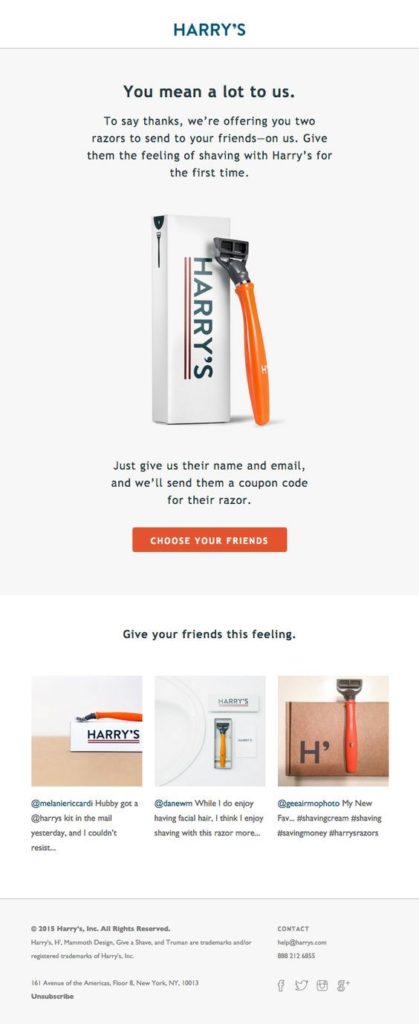 8. Thank you for reaching out email
Customers who reach out to you are an important part of your business for two reasons:
They raise your attention on a bug or an issue and share their feedback.
They're taking a step toward your organization and engaging with it.
We recommend you show appreciation to customers who reach out for information with a genuine thank you for reaching out email.
It helps you show that you're listening to your customers and willing to support them.
9. Thank you for joining us email
If a contact opt-in to your contact list and they don't hear from you in the first couple of days, they're more likely to forget about you.
For that, it's important to send welcome emails and thank new contacts for joining your contact list.
Show gratitude to new subscribers with a thank you for joining us email.
10. Thank you for subscribing email
Say thank you to customers who subscribe to your newsletter as they have shown interest in your business.
It's essential because it will pave the way to start the conversation with your contacts.
Sending thank you emails helps you set the right expectations for your subscribers. You can:
Tell them what to expect from you.
How often you will send emails.
What kind of offers they can expect to receive.
11. Thank you for your help email
Thank you for your help email are an essential element for nonprofits email marketing.
It's recommended to send such an email to donors, contributors, fundraising event participants, etc.
If you're running a business, you can also send thank you for your help emails to:
Customers who reported an issue.
Customer who filled a survey.
Customers who sent their thoughts and feedback.
As the thank-you example below demonstrates, you can offer a gift back for contacts who contribute to your cause.
12. Thank you notes for customers
Delivering personalized thank-you notes helps enhance your customer relationship.
A simple thank you email can help you get closer to your customers and increase their loyalty.
Here is McDonald's' thank you email to customers, offering them a free meal. It's a nice gesture to show solidarity with Frontline Heroes during the COVID pandemic.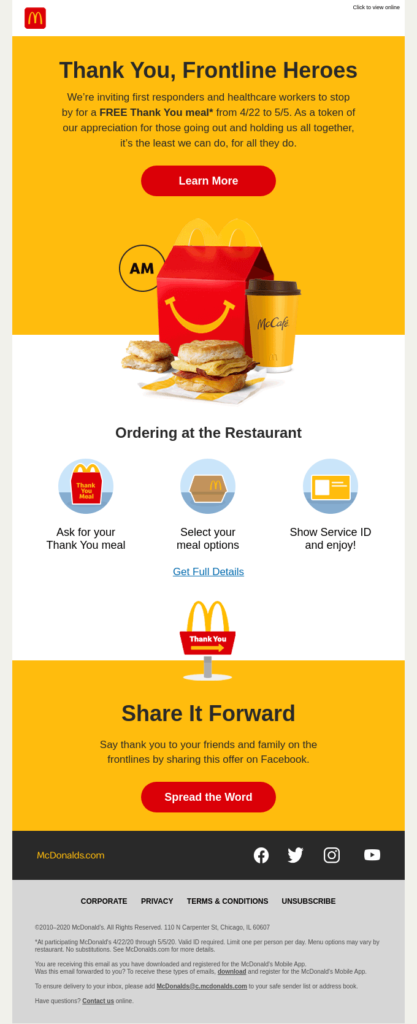 At once, McDonalds sends a beautiful thank you message which at the same time works as a special offer announcement email. That's why it's a great example to consider.
13. Thank you for using email
For almost every product or service, prospects are considering other alternatives and specifically your competitors.needs.
Keep in mind that even existing customers might consider considering other alternatives in the future.
For that, you have to make your customers feel important and appreciated by you.
And that's precisely why you need to show gratitude and appreciation to customers for using your services through a thank you for using our services email.
14. Thank you follow up email
Follow-up emails are a critical factor in keeping your customers engaged.
You can use thank-you follow yo emails to collect customers' feedback and unlock improvement areas for your products and services.
Here is a thank you follow up email sent by Massdrop to get feedback, ask customers to rate the product, and write a review.
15. Thank you for your support email
We say thank you to those who help us in our daily lives. The same goes for business.
Send a thank you for your support email to express your gratitude to customers who are supporting your business.
The Methodical coffee shop did that correctly through this thank you email template.
16. Thank you for your feedback email
Each feedback you receive is an important asset to help you improve your product or service.
Send thank you for your feedback emails to customers who contribute and devote their time to express their opinions or point-out some issues.
Here is a thank you for the feedback email example sent by FitStar.
17. End of year thank you email
Celebrating your end-of-year with your customers is the best celebration you can have.
Sending end-of-year thank you emails to customers will make them feel appreciated and special.
You can send an end of year thank you letter and wish your customers a happy new year. Or you can also send a Christmas email with a thank-you note.
18. Thank you for booking email
Thank you for booking emails are best for restaurants, transportation, hotels, and events.
Use thank you for booking email as a double-objective email to:
Say thank you for booking.
Confirm the booking.
Communicate additional details.
Include a reschedule or cancellation policies.
Highlight the address.
Your contacts would feel appreciated and find the email useful as it delivers the important information about their booking.
19. Thank you email on special days
Seize the opportunity to send love and appreciation during holidays.
Deliver thank you emails to customers on special days to show gratitude and highlight their importance to your business.
Here's an example from Breadbrand to inspire you.
Thank you emails are a remarkable act of appreciation towards your customers. But they shouldn't take an enormous amount of time or effort to prepare.
Remember, get emotional, not promotional in your thank you emails.
Register to Envoke for free to create, personalized, and automate your thank you emails to customers.
23 Genuine Subject Lines for Thank You Emails
Your thank you email subject line is the primary defining factor whether the recipient will open your email or not.
People are receiving marketing emails daily, more than ever before. But they don't have time to go through all of them.
The chances of your email being ignored or moved to the archive are pretty high unless you have a creative rocking subject line for your thank you email.
To help you out, here is a list of 23 genuine subject lines for thank you emails.
1. We just want to say thank you 🙏🏼
2. Thank you for signing up, need some help getting started?
3. Thank you for subscribing, you're in
4. Thank you for shopping with us 😊
5. This is for you. Thanks for attending!
6. Thanks again (name)!
7. We have a gift for you (name)!
8. A sincere Thank you from our team
9. This is for you, a big thank you
10. Thank you for being a part of our community
11. We couldn't have done it without you, thanks (Name)
12. You're special (name)!
13. We're happy you picked us 😊
14. Thank you for booking with us
15. Thanks for dropping by
16. It's a pleasure to have you as a customer
17.We're glad to have you!
18. Thanks to you, this year has been exceptional
19. Here's to our favorite customers
20. Thanks for sending us your thoughts
21. Welcome aboard (name)!
22. You mean a lot to us
23. We're stronger together, thank you for your support
How to Increase Revenue with Cross-Sell and Upsell Thank You Emails
You can turn simple thank you emails into a revenue opportunity by upselling or cross-selling techniques.
Post-purchase thank you emails provide you with an opportunity to increase your customers' lifetime value.
For a better understanding of how to send cross-sell and upsell thank you emails, here are examples.
1. Cross-sell thank you email
Cross-selling is the sale of additional products or services to customers.
The additional products/services recommended are mainly related to what the customer has already bought.
For example, if a customer buys a smartphone, you'd suggest they buy headphones or a screen protector.
Here is how you can do that in a thank you email.
Right after a customer purchases a product/service, you're supposed to send a thank-you for your order email.
That's your opportunity to include in your thank you email a product or service that's related to their purchase.
Here is a cross-sell thank you email to inspire you.

2. Upsell thank you email
Up-selling is basically when your software/product has an upgraded version, an extended plan, or the next version with an added benefit to customers.
For example, a customer wants to buy a 40-inch screen; you try to make them buy the 50-inch one.
Or for SaaS companies, you suggest that they can subscribe to a bigger plan to access more services.
Each time a customer subscribes or purchases your product/service, instead of just saying thank you, shoot your shot and include the upsell offer.
The example below incorporates their email correctly to get their customers to upgrade to a higher plan.
Cross-selling & Upselling don't need to be sent as separate sales emails. That's why merging them within your thank-you emails is an effective strategy.
Conclusion
As shown in the article, a thank you email to customers is like a playground for you to get creative and strengthen your relationship with your customers and subscribers.
A personalized thank you email helps:
Increase customers' loyalty.
Show appreciation and gratitude.
Treat customers like VIPs
Increase customer lifetime.
You've seen the examples, how it's done, and the tips on how to send the best thank you email to customers. Now it's your turn.
Register to Envoke to set up your thank you email template and engage your customers.